Staff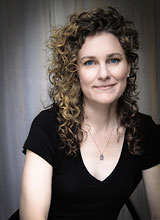 Jenny Hatch
Jenny Hatch began her career in Austin where she received her barber license in 1991. She has owned and operated Americana in Alpine since 1996. Jenny proudly serves on the Texas State Advisory Board on Barbering, travelling frequently to Austin for meetings and legislative sessions. She is a blocker and jammer for Marfa Roller Derby and enjoys life in the stunningly beautiful Big Bend Region.
An experienced editorial stylist with several album cover credits, Jenny has also worked in the film industry. She is a highly trained stylist specializing in modern coloring and cutting with a special fondness for men's hair. Jenny's current focus is supporting her amazing staff with ongoing advanced training and recruiting new team members for Americana.
Her passion is helping beauty and barber school students grow within the industry. Jenny travels extensively sharing her knowledge and experience with an inspirational program that empowers individuals to create bright, prosperous and fulfilling careers for themselves.
E-mail: jenny at salonamericana dot com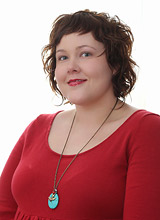 Tehra Vaughn
Highly trained by top stylists from around the country, Tehra provides outstanding results from her gorgeous custom colors to the stunning modern cuts her clients love. But Tehra isn't just well-trained and talented, her warm, calm demeanor and genuine concern for others has the effect of making everyone she works on feel as good as they look.
"I really strive to bring out the beauty and confidence that every person has within them. My goal is for them to walk out of the salon feeling satisfied and have no reservations about returning." With her role as Technical Director, Tehra's creativity and thoughtfulness help ensure a consistent level of care and attention with every service performed at Americana.
In addition to her professional knowledge, Tehra is a connoisseur of modern music. "Tehra is the reason you hear such fun current music when you visit Americana," explains Jenny Hatch, owner. "Her style and taste perfectly compliment the atmosphere I envisioned for the salon." Tehra also loves art, good food and hanging out with the wonderfully diverse and inspirational residents of Alpine, Texas.
Jana Bradley
Jana lives in, and loves, Alpine. As Salon Director, she is dedicated to the clients who visit Americana, especially those who lived dangerously with Dungeons and Dragons and Dr. Who. She is responsible for scheduling and for ordering the products that keep clients comfortable during and between their appointments. She actually serves in many capacities at the Salon, from brewing coffee to tending clients in distress. As our resident sci-fi fan, she has a fondness for flannel that she flaunts without flash or flare, although we are not privy to her costume choices as a fan of the Texas Rangers and the San Antonio Spurs.
Jana loves canines, and is not a breed bigot; she lives with Shelby, a Rottweiler, and Mako, a German shepherd. Each morning, she frees herself from all traces of her life with canine companions, i.e., only human hair may be found on her flannel.
Jana is integral to the creative spirit of Americana; she promotes that spirit in all her client encounters.